A carp fishing holiday at our carp pond
Holiday park De Groote Vliet is your ideal park for a pleasant carp fishing holiday. When you think of fishing for carp, you think of De Groote Vliet with its own carp pond, the large lake and kilometers of polder water. You also think of a green environment and the possibility to cast your rod in a quit spot. This is exactly Holiday park De Groote Vliet and we offer you more than that.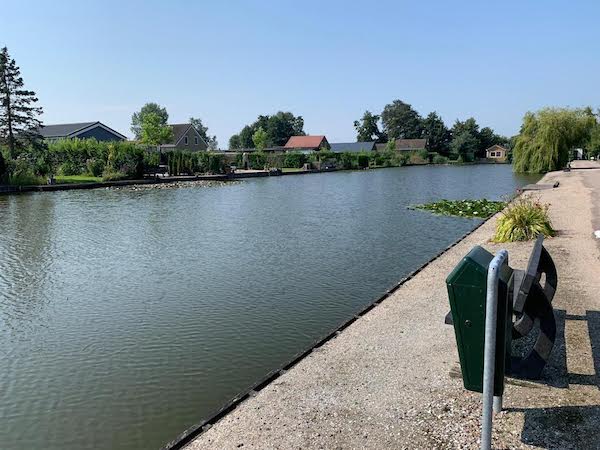 Facilities during a carp fishing holiday
At our park you have the option of renting a chalet or bungalow that is located right on the water, so that you can go fishing comfortably from your own cottage. You can go fish with a maximum of two rods per person from your own jetty on the side of the pond. If you do not rent at the Carp pond, don't worry, there are also public jetties on the side of the pond. You can bring the whole family, because besides fishing there is much more to do at the park. Also in the immediate vicinity you will find everything you need for an ideal holiday. A carp fishing holiday is also a great idea for a senior holiday with a small or large group. If you want to stay with a large group, you can opt for group accommodation at our holiday park.
No fishing permit
This is our own fishing water, so you don't need to have a specific fishing permit; you only need to adhere to the rules mentioned below. Magnificent carp swim in this pond but you can also catch eel, bream and whitefish.
In order to ensure that subsequent guests are able to fish with just as much pleasure as you, the following rules are in force:
Pre-feeding is not allowed.
It is strictly forbidden to fish for predatory fish (no artificial bait, pieces of fish or live bait.
Every fish caught must be returned immediately with the exception of eel.
You must not leave your fishing rod unattended.
A de-hooking mat is compulsory when fishing for carp.
Accommodations on the fishing water
Almost all of the bungalows and chalets which we rent are situated on either the continuous waterway or carp pond. If you would like to rent a chalet or bungalow from us, please let us know your requirements. Perhaps you would like to be by the pond or you may prefer to have your (rented) boat in front of the door? Whatever your requirements, we will always try to satisfy them wherever possible. Furthermore, we don't charge any extra cost for this service. In addition, when you rent one of our chalets or bungalows, you can always fish in the carp pond or in the "Groote Vliet" via the public jetties.
Reservation and contact
Do you already know when your ideal carp fishing holiday can start? Book in time to ensure that you rent a fantastic fishing spot at this beautiful park in a green environment. Would you like more information first or do you have a question? Contact us by calling +31 (0) 228-583 229 or sending an email to info@vakantieparkdegrootevliet.nl.