Sales information
First we would like to thank you for your interest in our recreation park.
We want to be a park where permanent holiday-makers and tourists feel safe, where they can entertain themselves or enjoy the nature and tranquillity. You name it, we offer it: a bite to eat in the eatery, boat hire, cycling, sailing, angling, swimming in the numerous bodies of water and enjoying nature, the museums, harbours, picturesque villages, etc. We cater for every need. We also try to fulfil the dreams of different people who have different requirements and budgets: becoming the owner of their own recreational property.
Our park is open 365 days a year, but permanent residence is not permitted!
There are therefore various options at our holiday park, namely:
Your own mobile home on rental land which has come up for resale.
Your own bungalow or chalet on a purchase plot, which has come up for resale.
Your own new-build rental holiday home.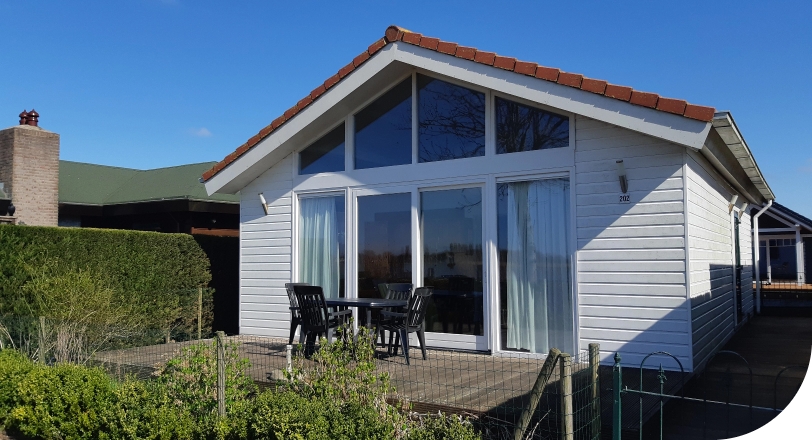 Maximum investment
You can own a new-build Holiday Home at Holiday Park De Groote Vliet, your holiday home will then be rented out through the park. When a plot becomes available, it is offered in combination with one of the different models. The construction of the holiday home, furnishings, inventory and garden will then be fully arranged for you. If you, as the owner, also wish to occasionally use the holiday home yourself, that is also an option.
Because we want to have all the time for you, we like to work by appointment. At this appointment we will provide you with all the necessary information and together with you we can view the park and possibly the objects and lots for sale.
All objects for sale are first sent to the waiting list. These are then offered for sale on our website. If you would also like to be the first to receive sales information, we recommend that you register on this waiting list.
We look forward to meeting you at De Groote Vliet Recreation Park.
C. Joost Family & staff